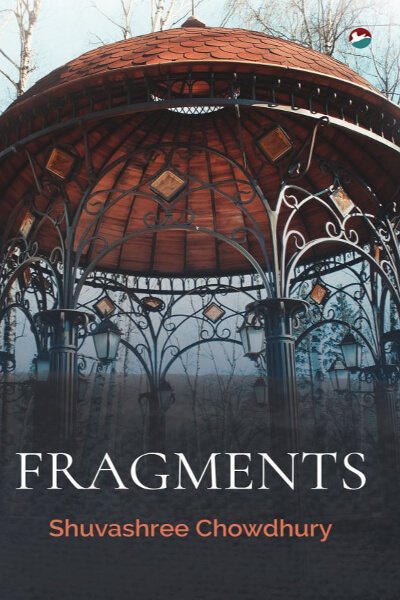 Description
Fragments is Shuvashree Chowdhury's debut collection of poetry. It is an intuitive journey into various aspects of the human experience — love, passion, jealousy, joy, spirituality and death. The poems engage deeply with the world — turning each heartfelt moment in the hands like fragments of a broken mirror — to examine with keen intelligence, the light passing through the countless shards, towards self-realization. The poems convey insights with a perceptiveness that is at once brilliant and sumptuously lyrical, vivid and kaleidoscopic, in a language that is elegant. The poetic journey gradually transcends into a serene, spiritually uplifting zenith — weaving its way upstream through the rocky riverbed of the spirit — the soul quivering, often crushing emotional currents.
Fifteen poems from Fragments, in a staged reading, were recited by veteran theatre artists of the reputed group — Madras Players — the oldest English language theatre group in India, in 2015 for their 60th year celebrations. The poet also read poems along with the actors. Alongside eminent poets, she has read from her collection at important literary festivals, including 'Poetry with Prakriti' (Chennai) in 2016 at Stella Maris College, Madras Christian College, and several others.
Additional information
| | |
| --- | --- |
| Author | Shuvashree Chowdhury |
| ISBN: | 9789387676329 |
| Publisher | CinnamonTeal Publishing |
| Format: | EPUB |
| Year of Publication: | 2018 |
| Edition: | First |
| Condition: | New |
| Country of Origin: | India |
Delivery
This book will be available to you as soon as your payment is processed. Please check your purchases (available within your account information) for the download link.
Reviews
'A moving and evocative novel that vividly captures our past.'
— TIMERI N MURARI, novelist & playwright, recipient of the R K Narayan Award
'An urgent tale told with utter vividness. An important addition to the literatures from India's North-East and Bangladesh.'
— SUDEEP SEN, author of Fractals: New & Selected Poems | Translations: 1980-2015; The HarperCollins Book of English Poetry & EroText
'The book is unputdownable. How many people can write as powerfully as Shuvashree Chowdhury?'
— PRANAY GUPTE, journalist & author
'Across Borders holds you with its vivid descriptions and its delineation of characters. Moving across the important decades of our early independence, it tells stark and often poignant stories.'
— RUCHIR JOSHI, writer & columnist, The Telegraph (Kolkata)
'An engrossing storyteller …. The delineation of characters is superb, so true and real that they come to life. I was able to identify myself with many situations. I finished reading the novel in two straight sittings.'
— P V KRISHNAMOORTHY, (first) Director General, Doordarshan
'The author has surpassed herself in fleshing out the primary characters. But her strength lies in linguistic flair, especially in descriptive prose. There are myriad evocative turns of phrase throughout the novel, each a delicate brushstroke that adds luminosity to a master canvas. It is in these compelling details that Across Borders stands out as a commendable body of work, its vivid details evocatively blending history with fiction.'
— The Telegraph